Latest News:
November 2007
GOD is so Good
We have a lot of new students again in our SPED Program. Would you believe we now have a total of 108 students (70 of them are deaf and 38 have their disabilities.
In the new building, the McRae Center, we have 14 Grade III and IV students, 17 Grade V and VI students, and 22 deaf high schoolers. The high schoolers come from eight or nine towns and some ae aged 19 and 20! They are so excited to be able to come to a high school, because there is none in this area, they don't want to go home! (At home there is no one to sign to, or talk with, and when you are of high school agethat is a big problem!) The other more disabled students and small deaf childresn are in the PCFFD building with enlarged classrooms. We are not jammed up like before! They still urgently need money to complete the McRae Center.
---
November 2007
God Answered Prayer
We asked you to pray for a high school teacher for the deaf, as such a qualified person is so hard to find! Well, God answered wonderfully! We now have Teacher Larry Miemban who loves the deaf. His brother who is deaf, studied at a College for the deaf so Larry understands the deaf culture, but he is a hearing person, and therefore it is so much easier for us to work with him. He recently got married, and his wife Rhida, a trained high school teacher, is at present a substitute teacher in our Grade III and IV deaf class.
We are also very thankful for Mrs. Jessilyn Enrile, a mother of a deaf student, who is now a permanent teacher. You need a lot of love and patience when handling ten very lively little deaf pre-schoolers who enter with zero sign language! With normal children, if they don't look at you, they might be still listening. But with the deaf, if they don't look at you, they are not learning anything. Our staff now number 14, all voluntary, but we need a sponsor for Larry.
---
July 2007
"If there is access, there is success!"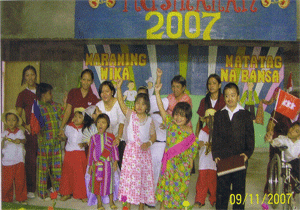 This was the theme fof the 29th National Disability Prevention and Rehabilitation Week in the Philippines which was commemorated in July. A special program was held in our new Center, it was organized by provincial government personnel, and other disabled groups attended.
This was actually the first program to be held in our new building. Our SPED children gave their delightful items, especially the presentation of our little Educable/Autistic children. They sang and acted the song, "Open the Eyes of my Heart, Lord." Everyone was touched. One of the fathers sitting and watching said to me that he was so proud because his little boy had really practiced that song at home.
The high schoolers gave an excellent mime on the Good Samaritan, with their own additions. There were also games, food and gifts at the end of the proram. The crowd numbered about 300.
---
ANNOUNCEMENTS
Wheels for the World
Next July 2008,"Wheels for the World" from Joni & Friends in the States will be giving 100 plus wheelchairs, walkers and crutches here at Hebron. These will be given free with the service of fitting the wheelchairs for the recipients.
Our task is to find all the recipients - all the people needing these things, and fill out forms properly. We have already begun promoting it and giving out flyers to churches and government organizations and to our own staff. We also hope to network with Operation Blessing, a Christian television medical aid group. Please pray for this project. We also want to include an activity which will show the recipients that God loves them and has a plan for their lives. too
---
Memorandum of Agreement with Bulacan State University
Last August 10, we came into an agrement with Bulacan State University Extension Services for them to conduct and facilitate diffeent training nd enhancement programs for our staff members, parents and students as well as others in Bulacan. Our part is to organize the participants and facilities and to provide the needed expenses/materials, handouts and certificates of recognitions.
---