Worship Services
Sunday School
9:00 am - 10:30 am
Morning Service
10:30 am - 12:00 pm
Lord's Supper
Every First Sunday of the Month
10:30 am - 12:00 pm
(Sign Language interpreted service combined with regular service at CCBC Balcony)
Welcome to Capitol City Baptist Church - Deaf Ministry!
Founded in 1986 as a small Deaf Ministry led by Pastor Cesar Castro of Deaf Evangelistic Alliance Foundation (DEAF). Ptr. Cesar asked the Pastor of First Baptist Church to have one of its own. He was referred to the Capitol City Baptist Church and requested them to have a Deaf Ministry. So it was accepted by Rev. Reynaldo Atienza who is now the Chairman of Conservative Baptist Association of the Philippines.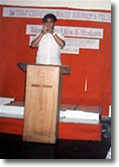 Ptr. Cesar together with his ex-PSD classmate Rina Dimaculangan established the Deaf Ministry in July 1986. The ministry is now serving the Lord for 22 years under the leadership of Deaf Pastor Julius G. Andrada, also a colleague of Ptr. Cesar and a classmate from DEAF together with his hearing wife May Gasataya-Andrada as a sign language interpreter. Both of them work at CAP College School for the Deaf holding administrative positions. Brother Jojo Esposa Jr. of Manila Christian Computer Institute for the Deaf also interprets during combined service.
Currently, more than 100 deaf persons attend the Sunday Services. This is a living proof of God's continuous blessings to the ministry.
Purpose Statement
We at CCBC - Deaf Ministry follows the principles and doctrines of the Capitol City Baptist Church. Our purpose statement is:
Strategically
Engaged in
Nation's
Discipleship through
Christ Centered
Community Transformation
Birthing and Building up
Churches.